MADE FROM SCRAPS X CRAFTED VANCOUVER - 2019
My Sundial Piece for the Made From Scraps Vol.1 Wood Series Finale
Hosted by @toddchrispy - Presented by @vancouverartcommunity - Powered by @spacetospace.co
Made From Scraps brings artists and designers of all type together to find practical and creative uses for a featured "scrap" material. Artists participating in Made from Scraps: Volume 1 represent a variety of backgrounds and practices, and converge around a common material: WOOD. This series sparks a new conversation about sustainability, as the artists and designers innovate products and applications that provide practical solutions to design and objects of value, sentimentality, beauty, and longevity.
SWITZERCULT SHOWROOM - 2019
At SwitzerCultCreative™ our mission is the discovery, promotion, marketing and development of modern, original designs for living.
Through our extensive network of designer showrooms in Canada and the United States we provide the opportunity for a carefully curated grouping of original designer Brands to increase brand recognition and develop their market.
In our new Vancouver Showroom and Gallery we are passionate about showcasing both established Brands and new innovative collections of furniture, lighting, accessories and textiles. Our vision for our flagship showroom is to provide the opportunity for designer Brands new to Vancouver and western Canada to flourish and grow.
Artists: Jake Johnston, David Ullock, Pablo Zamudio - Selected by: Pat Christie & Renee Switzer
ARTIST PAVILION RECAP - 2018
It took Michael Bock and Drew Young about a year to get the Visual Arts Program here and it managed to go off without a "major" hitch. Big thanks to @gnwsshop for the builds and Matakana Scaffolding for the structures, Tim Rolls who has developed some very exciting LED programming software, and huge thanks to all the artists involved in the Art Pavilion, Sarah Delaney @scottsueme @ghostmeadow @brotherjopa @tierneymilne Ilya V Art @qwasen Zac George, Ali Bruce, @badbloodclub @jaketiktokjohnston @7h3m3 James Acrow and @ms_nahanee
Props to Nick Pound and Adrian Sinclair for all your support. BRAND LIVE we all had a blast
Video by Brother Jopa
SKOOKUM MUSIC FESTIVAL - 2018
Framed by the shoreline forests of Vancouver's iconic Stanley Park, SKOOKUM features an eclectic mix of contemporary music, food, and art – just minutes from the centre of British Columbia's largest city. Alongside a music lineup of legends and new favourites, you'll discover live art and multimedia installations by local artists, complemented by a taste-tripping selection of culinary experiences – from cool food trucks to remarkable dishes from some of Vancouver's most notable chefs and restaurateurs.
OPUS ART SUPPLIES LIVE PAINT AT VMF - 2018
Opus Art Supplies live painted Skate Decks & Raffle at Vancouver Mural Festival 2018, Artists include: Alison Woodward, Jenn Brisson, & Lauren Elms
VANCOUVER MURAL FEST BUS - 2017
Create Vancouver Society and the Mount Pleasant BIA is excited to announce the Vancouver Mural Festival Street Party on Saturday, August 12th from 12pm–6pm. With 10 blocks in Mount Pleasant closed to traffic including Main St between E 12th & E 7th Ave. and the alley between Main + Quebec St.
Up to 100,000 people are expected to visit the area to view the completed murals and take in live art. Bus provided by Hyak Rafting Co
TAKING IT GLOBAL WISH150 - 2017
OPENING RECEPTION: Tuesday August 1st ,7-9pm
Opening by Cease Wyss, Artist talks, Poetry with Mitchell Touchie and Justin Bige, Dance performance with Vidya Kotamraju, Musical performance with Familiar Wild, and DJ set with Erica Dee
TakingITGlobal presents the Wish150 A Long Way Home exhibit featuring the Vancouver Mosaic. The project brings together wood pieces painted by 9 different artists from British Columbia, to form a diverse mosaic. These emerging artists have the opportunity to creatively express their identity, the aesthetic of their community, and their wish for Canada in the next 150 years.
Artwork by ADELE MASKWA ISKWEW ARSENEAU, ANDREW TAVUKCIYAN, JAKE TIKTOK JOHNSTON, BRODERICK WONG, CAITLIN McDONAGH, CHANDA STALLMAN, KIM VILLAGANTE, SANDEEP JOHAL, TANIA OROZCO, EMMA HASSENCAHL, CARSEN GRAY.
'METICULOUS' SOLO SHOW - 2017
Jake Johnston, also known as 'TikTok', is an Abstract Geometric Artist currently working out of Slice of Life Gallery & Studios in Vancouver, BC. His youthful mischievousness would initially enter him into the world of Art via the avenue of Graffiti, teaching him the tools and techniques that are currently used in his paintings today. In 2010, a 2 year Graphic Design course taken at The Pacific Design Academy in Victoria BC would forever alter his approach to configuration, and give him new means by which to produce, promote, and capture his work. After achieving his diploma, TikTok would take the leap from his home town and make the move to Montreal QC, which would prove to be an exceptionally formative experience for him. In 2014 TikTok would return to the West Coast and call Vancouver home. If Montreal was a place of revelation, then Vancouver would become the hallmark of commitment to his craft with the focus of turning a hobby into a career. Using masking techniques and spray paint to form his compositions, usually over stained wood grain panels, his approach to execution shows a disciplined workmanship that mirrors his 'everything in its right place' habits. TikTok's striking assemblage and finite execution can be summarized as nothing short of meticulous.
KEYS TO THE STREETS PIANO - 2016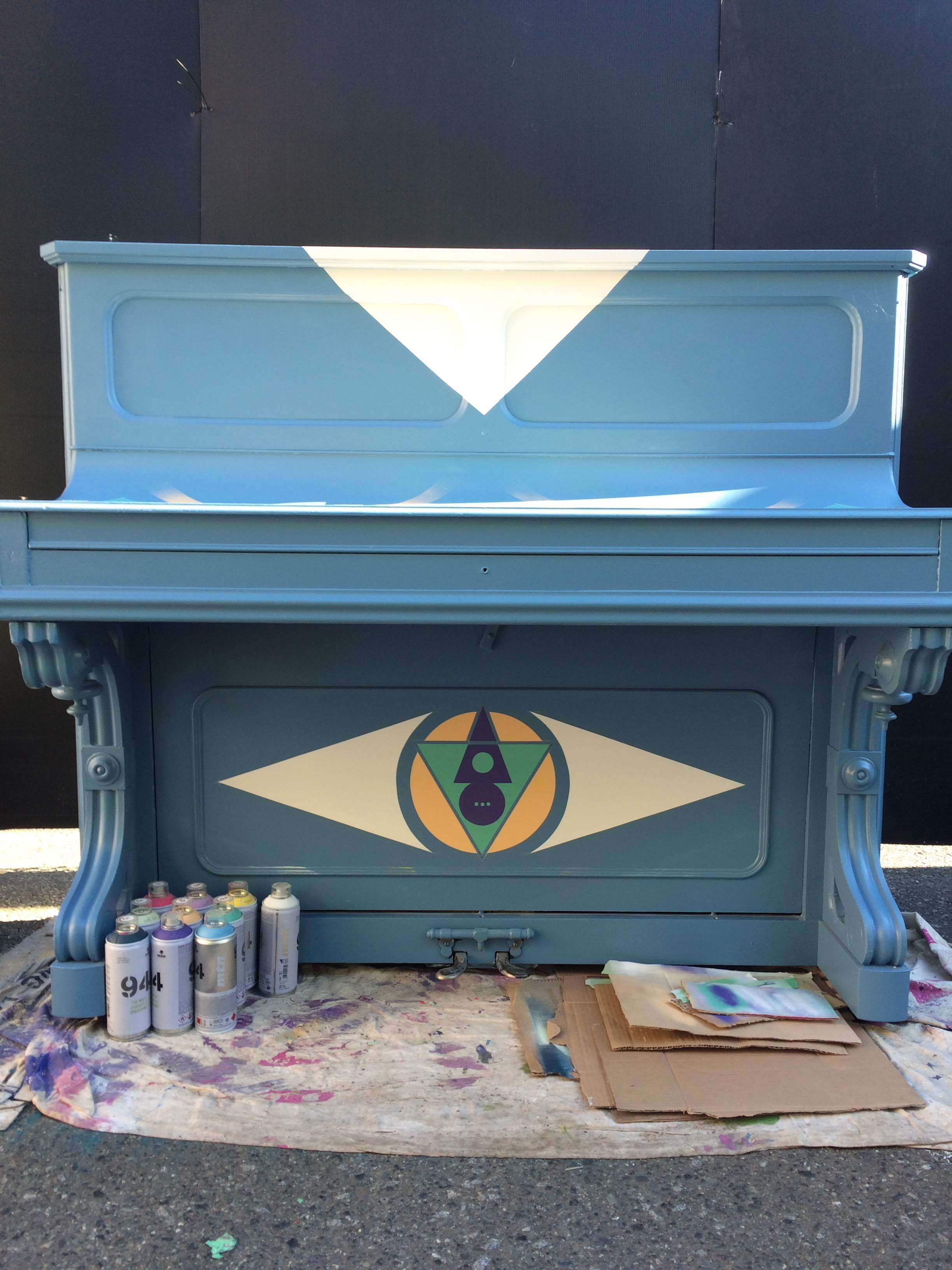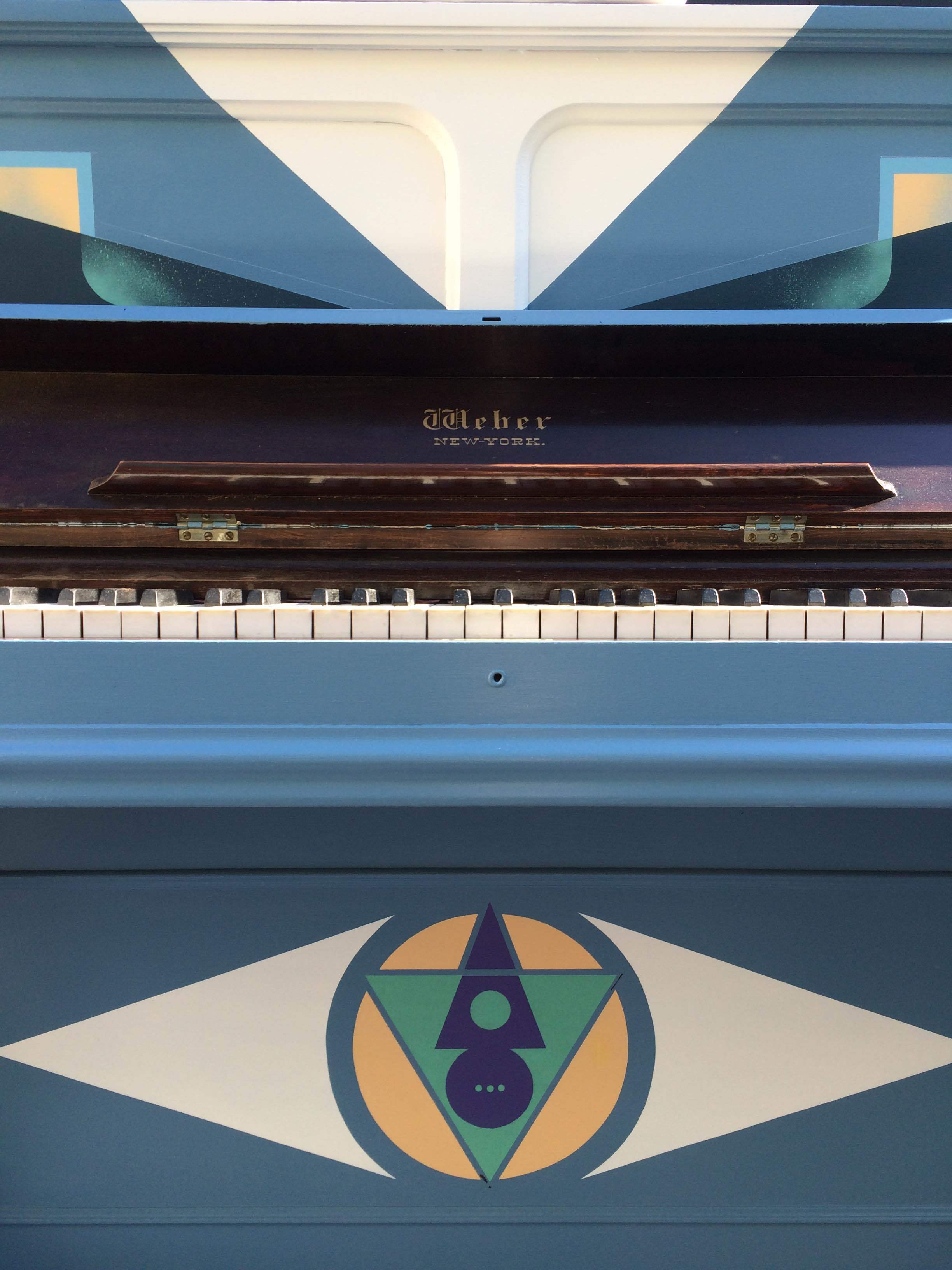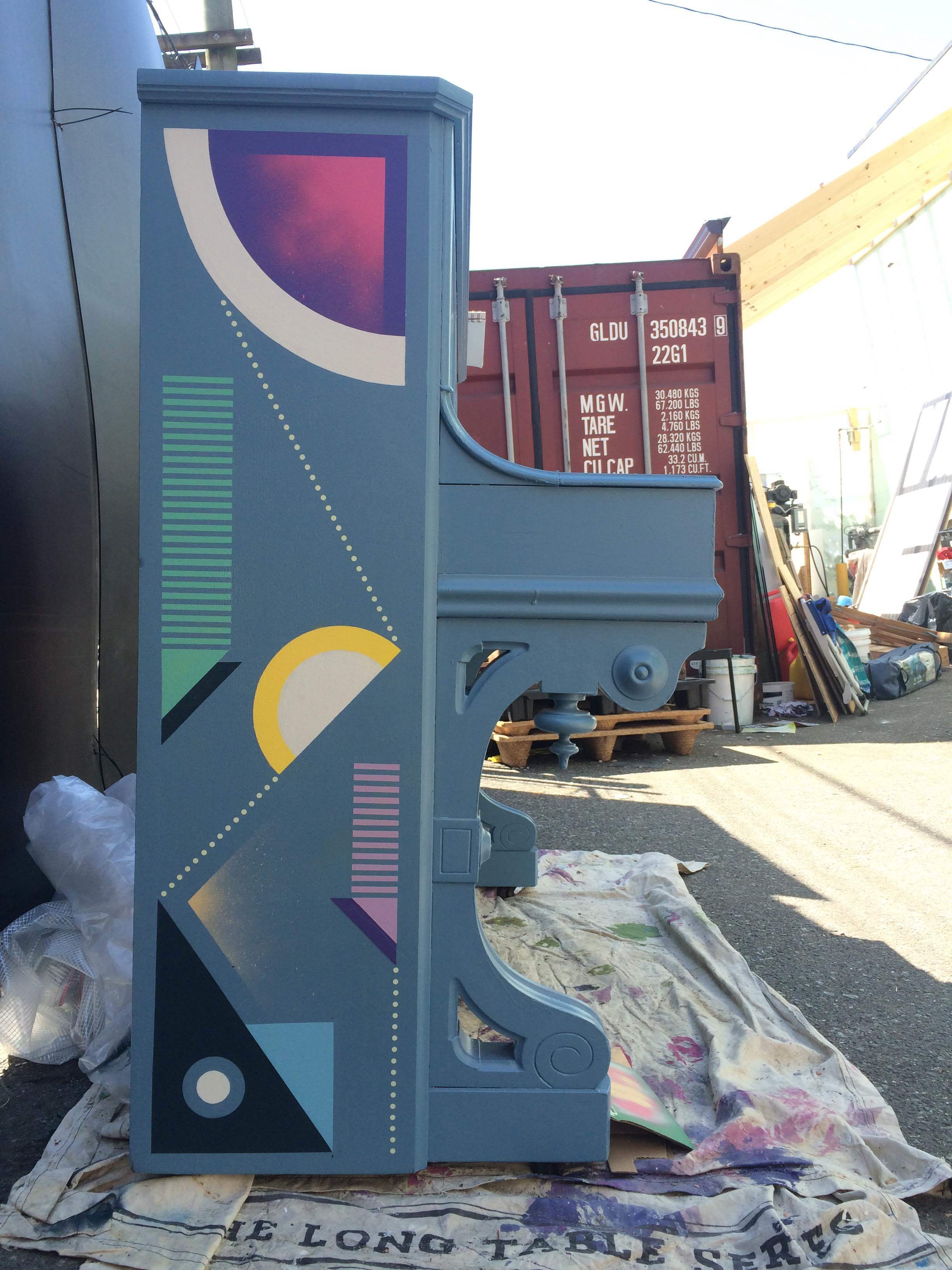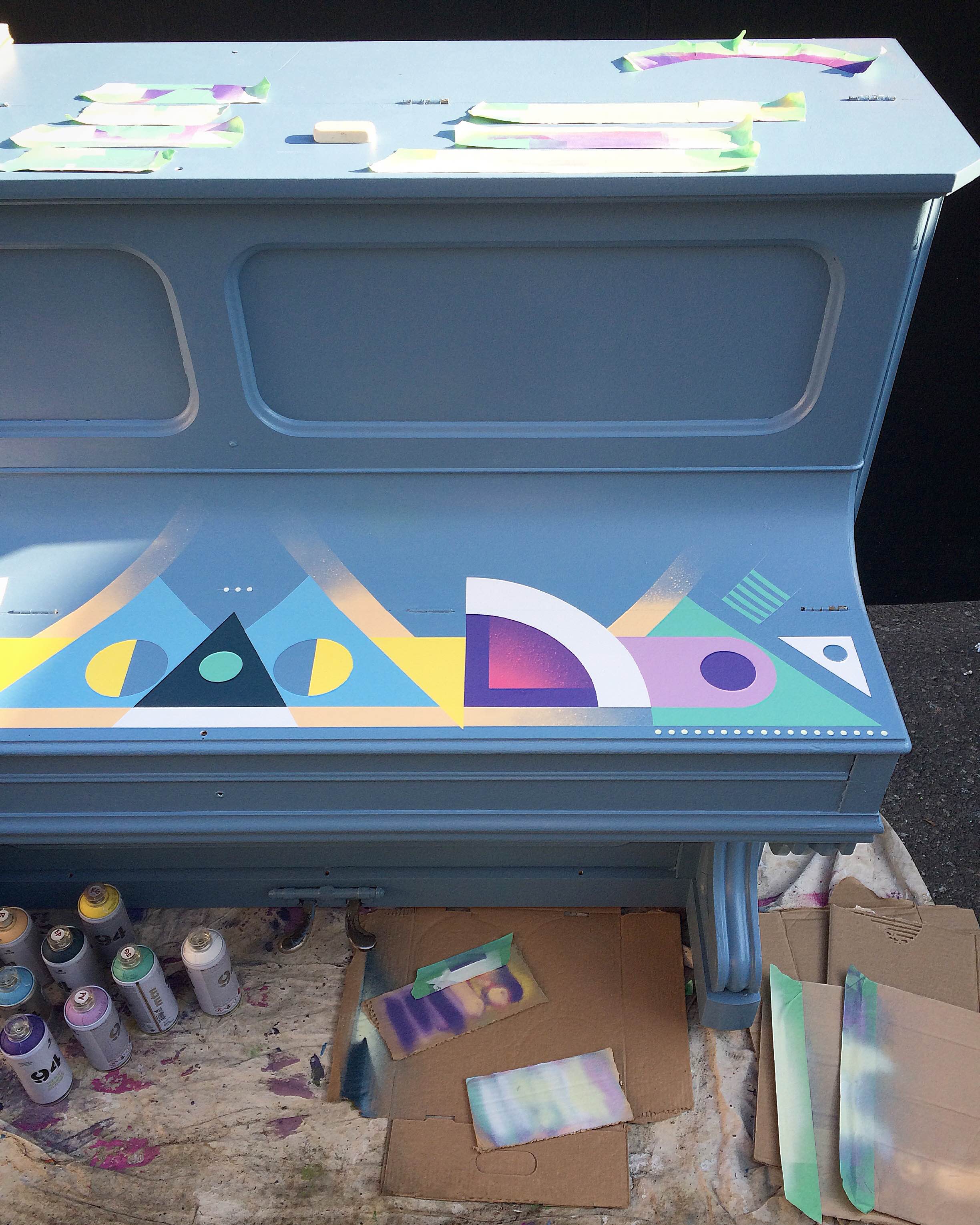 Keys to the Streets brings delight and surprise to Vancouver's public spaces by providing vibrantly painted pianos for everyone to play. The pianos offer a space for improvisational gatherings, spontaneous connections, and celebrations of music. Our pianos are painted by local artists and placed in an outdoor public space, where community stewards look after them for the summer months. These pianos aim to create a space that makes Vancouver a more vibrant, engaged, and interactive city. The pianos provided help to address the issue of social isolation in Vancouver by providing spaces that allow and encourage connections between many demographics, all levels of musical skill, and those that simply listen. Keys to the Streets started as a CityStudio student idea in the spring of 2013 and once launched, spurred a flurry of media and community praise. It has since been identified as one the most engaging and accessible projects in Vancouver by community members, media, tourists and music makers of all types. With the blessing and support of CityStudio, Keys to the Streets is transitioning into its own entity, keeping true to its roots as a student project that took a chance, put a piano in a park, and sat back to watch the magic happen. Onwards and Upwards! - Aaron Tilston-Redican & Becky Till
CANADA RUGBY 7'S BALL - 2016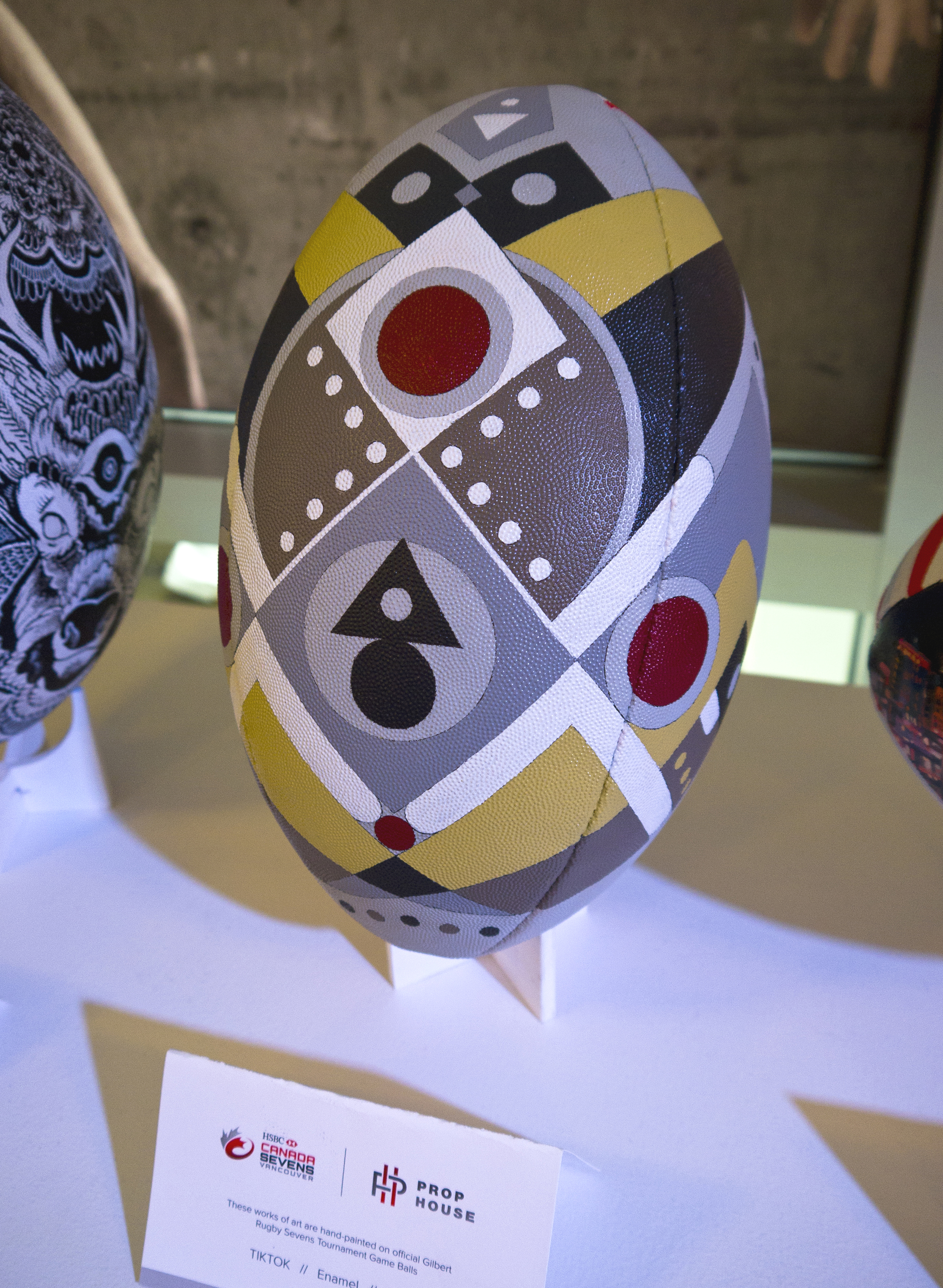 Artists Curated by Drew Young
SQUAMISH VALLEY MUSIC FESTIVAL - 2015
Brandlive and Livenation present the inaugural year of Squamish Valley Music Festival's Visual Arts Program. The organizers have teamed up with local artist/curator Drew Young, to produce a robust site-wide program. The instalations were produced by 40+ locally/internationally celebrated artists, specializing in a wide spectrum artistic disciplines. Festival-goers engage immediately with 100'+ of sculptural works at main gates. Their course continues by installations including a massive rendition of this year's Poly Bear mascot and ultimately arrive at the VA Program's mecca - The Art Pavilion. The Pavilion is a 3-tiered arts castle; providing attendees a constantly evolving day/night arts experience and incredible vantage points for performances. The structure is wrapped in 20 live-painting murals and houses one of the world's largest mechanized kaleidoscopes. At night it's look is illuminated by an incredible light/laser display and a 40' one-of-a-kind psychedelic interactive animation wall. This festival has become the playground the West Coast art community deserves. Executive Producer: Paul Runnels Creative Director/Curator: Drew Young Project Manager: Jackie Sakaguchi Site Director: Isaac Kinakin Lighting: Jason McKinnon POLY BEAR Concept: Drew Young Fabrication: Aaron Gullmes Animation/VJ: Jonny Ostrem Bear Design: Jeremiah Shaw Schematics: Drew Young, Jonny Ostrem REACTIVE WALL Concept: Jonny Ostrem Animation/VJ: Jonny Ostrem KALEIDOSCOPE Concept: Drew Young Design: Brayden Eshuis, Christian Honetschlager Fabrication: Christian Honetschlager ART PAVILION Concept: Drew Young Layout: Drew Young Managers: Lucy Cameron, Nick Pound Muralists: Ilya Viryachev Drew Young Tierney Milne Shannon Elliott James Knight ISREK Peter Ricq Alison Woodward Ali Bruce Lauren Coutts Brent clowater Colin Moore Ben Knight Mark Illing TIKTOK Lucy Cameron Karston Smith Taka Sudo Ben Tour Mandy Tsung Russell Alton Dylan Humphreys GATES Design: Drew Young Fabrication: Aaron Gullmes Murals: Colin Moore, James Knight, Brayden Eshuis Schematics: Drew Young Signage: James Knight, Eidan Gidon VIDEO Camera: Joe Klymkiw, JOI Productions Edit: Drew Young Music: Runnin - GANG SIGNS (STINT Remix)
EL KARTEL GROWLER SHOW - 2015
Local art scene meets craft beer. An UnTapped Craft Imports & El Kartel collaboration night of awesome one of a kind growler art, dj's, dancing, tasty Oregon craft beer from Worthy Brewing & a whole lotta fun.
ION MAGAZINE INTERVIEW ISSUE #93 - 2014
"Now that my cigarettes, lighter, cell phone, note pad, and water bottle are placed beside me, properly spaced with perfect parallels, and the music volume is just right, let's get started."
FRESH PAINT GALLERY INSTALLATION - 2014
"So far, my top of the top has got to be my exhibition at Fresh Paint Gallery in Montreal. The show came at a great time, when I was very creatively charged and ready to invest in a big project. It was great to meet and work alongside a lot of awesome people" - excerpt from Ion Magazine interview
As an exhibition, education and events hub, Fresh Paint Gallery aims to balance cultural and formative elements with the objective of promoting and encouraging the practices of Graffiti and Street Art.
BEAUX DEGAT ART BATTLE #13 - 2013
Beaux Degats exists for the simple reason of bringing back what has been too long forgotten or ignored by commercial and private art institutions. These battles bring us back to the reality of the artists, graffiti writers, street artists, which is that of community, accessibility, sharing, and the acceptance that, by nature, everything which is created is ephemeral. During two hours, six teams of artists, coming from different backgrounds, compete on a large scale format based on two imposed thematics. While street artists, graffiti writers, and visual artists work on their creation, the public votes for their favourite mural.
Mural done for Crudessence
Videography & Editing by Shane Day